Navigation

Benefits of Therapeutic Massage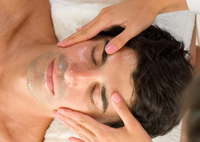 Massage is an age old remedy and health practice that uses hands-on therapy to soothe aches & pains and facilitate your body's own healing powers. From the ancient Greeks to modern day spas, massage is recognized and compliments any health care facility. Hospitals, health clubs, Chiropractors and many others incorporate massage therapy into their practices to further benefit and enhance treatment effects.
Massage therapy is beneficial from preemies/infants to old age and can enhance general health and well-being. Therapeutic massage has many techniques and variations in the treatments you can receive, which makes this beneficial for many different conditions.
Benefits for your health
Improved circulation
Relief of muscle tension
Enhance general health
Alleviate chronic/repetitive stress injuries
Support fitness and sport programs
Combats negative effect of aging
Relieves effects of stress
Therapeutic massage can also help in special cases that are temporary or long-term situations with physical and mental challenges such as…
Pregnancy (pre & post natal)
Preemies/Infants to promote health and growth physically and mentally
Disabled and/or immobile individuals
Elderly to feel fit and flexible
Developmentally disabled
Cancer, HIV and many other diseases and conditions
Massage is especially beneficial for caregivers, physical workers, desk workers, and travelers as these environments can create stress on the body.
What approach that is best for you will be determined by your therapist. After discussing your situation and condition with us, we as well-trained therapists will decide on a technique and change it as needed to benefit you the most. Communication from you is most important during a session to complete your massage with us.